"When one cups tea, one should allow the senses to take in all nuances it has to offer," says Ada's Artisan Teas co-owner Eva Lamiano. To Eva—and partner in tea and life, Eran Wasserman—tea is a ritual, an art, and a presentation. The aim of their company is wholly hedonistic: to sip and experience the pure pleasure of drinking a fine, quality tea.
Eva and Eran have taken part in the high-pace, professional lifestyle through their previous careers. With Ada's Artisan Tea Company, they have offered up an invitation for a pause in everyday life and carving quiet moments out of task-heavy days.
"Of course the health benefits of tea are abundant, but communicating its healthfulness is not the goal of our company," Eva said. "We are driven by enjoyment. We can't always drop everything and take off for an extended vacation, but what we can do is incorporate a ritual of enjoyment in our everyday lives. We can take a moment of relaxation and indulge in superior taste."
Eran added, "We love to create, live life, obtain and share experiences of good food and good drink—the great pleasures of life."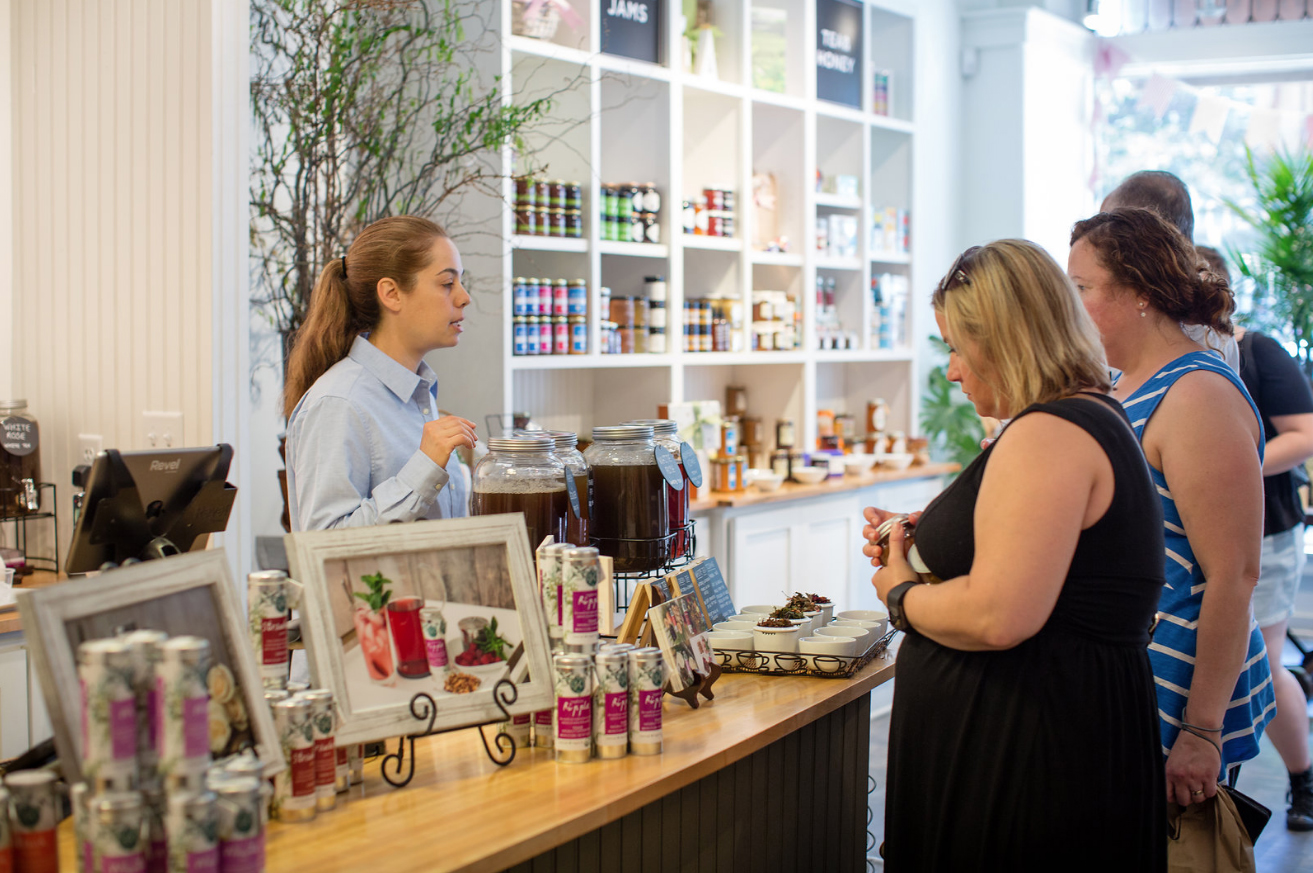 Of course, Ada's is hardly the first to honor and celebrate tea. "Tea has been around for centuries and cultures have been built around it. It has been brewed for celebrations, ceremonies and healing. It is the second most consumed beverage in the world after water." The second part surprised me, as I'd have pegged coffee for second place, but Eva noted, "In America, we are still primarily a coffee drinking nation, but there is growing exposure of the American consumer palate to a wider variety of high quality loose leaf teas than previously in our country's history. Consumers are not fully aware of the versatility of tea, which doesn't always have to be a hot beverage in a mug or cup. It can be steeped and mixed to make a delicious cocktail, a caffeine- and sugar-free, kid-friendly herbal infusion, or incorporated into cuisine from baked goods to main dishes."
What makes Ada's Artisan Teas different from others, and, in fact, artisan? Eva says, "We select the best certified organic teas, and allow their natural flavors to shine through. When we create flavors and blends, we only add organic fruits, herbs, and natural flavoring. Nothing is artificial. We consider a wide variety of palates, as everyone is different. Some teas are very popular while others are quite rare and unique. Some teas originally reserved for royalty and emperors are now sipped on the porches of our neighborhoods.
We believe in the simple pleasures of exceptional teas. To that end, we work closely with tea gardens and specialists to ensure that our distinguishable blends are rich in inspiring aromas and exquisite flavors which bring bliss to your day, and peace to your life — one sip at a time."
The Inspiration
Eran's mother, Ada, is the tea's namesake. Eva shared, "Ada is an artist who has been painting for more than 30 years. She is an artist, an artisan herself. So Ada's Artisan Teas just clicked. In addition, we wanted to do something that honored her influence in our lives, and helped us celebrate and remain connected to her on a daily basis, although she is in Israel and we are in New York."
The exterior of the tag that accompanies every tin of Ada's Tea reads: "May the harmony in your cup overflow into your life." Its interior reads: "My mother Ada always said, 'Be present in the moment, find peace from within, and observe greatness in the small, simple pleasures in life.'"
Eva's "Tea 101"
I drink loose leaf tea with some regularity, and thought perhaps I knew a little something about tea, but after being educated by Eva, it was clear my confidence in this area was falsely inflated. With every informative prong of our discussion, it was utterly apparent that she was damming back her extensive knowledge so as not to overwhelm me. Listening to her, it was easy to grab on to the poetic language that flows from her, the lexicon of tea: "tea gardens, first flush, pluckings, silver needle, withered, oxidized, cupping, 'the agony of the leaf' . . ." How can one not find bliss in listening alone?
Eva instructed me, "All types of tea come from the same plant, Camellia Sinensis, the differences in tea arise from processing, growing conditions, and geography. Tea can be divided into five basic categories: Black, Green, Oolong, White, and Pu-erh. Tisane, or herbal tea, is an infusion of fruits, herbs, or spices that usually does not contain caffeine. Offering a selection from each category, everyone has an opportunity to enjoy — from someone just beginning to explore the world of tea to the tea connoisseur."
Some Tea Basics:
Tea is harvested periodically and varies in different regions.
Fresh growth on the tea plant is referred to as a flush.
Spring: 1stflush, Summer: 2ndflush, Autumn, 3rd flush
During each cycle new tea will appear every 5-15 days with more rapid growth during hot and humid conditions
First pluck of the First Flush is highly prized for its rich aroma
First tea following the dormant winter cycle is considered very best.
ALL Tea is withered. Withering is moisture evaporating from the leaf.
Oxidation is the reaction of the tea leaves when it is exposed to air after the leaves have withered.
Steeping the perfect cup:
Start with fresh, cold, quality water. If your water has taste to it, such as mineral or sulfur, use fresh Spring water.
Use quality loose leaf teas.
One teaspoon for approximately one 6-8oz cup.
Heat water to appropriate temperatures.
Warm your teapot/teacup with some hot water, discard.
Measure tea into pot, infuser or cup. Use double size vessel of expanded tea leaves.
Pour hot water over tea and steep to taste.
Strain, serve, enjoy!
Remember that steeping tea longer does not make the tea better, only bitter!
Tea Storage:
Do's
Airtight, dark container
Foodsafe containers airtight and opaque
Cool, dark place. Avoid light and heat.
Foil bags or foil lined provided by tea supplier.
Don'ts
Clear glass or plastic
Refrigerator or freezer or other wet, warm or humid climate
Same cabinet as spices. Odors are easily absorbed.
Plastic bags. Light, odors and air penetrate bags.
Shelf life:
6 months – 1 year, up to 3 years.
Some exceptions such as aged Pu-erhs.